evel knievel toothbrush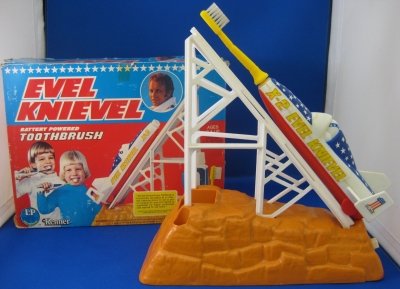 What was the biggest event of 1974?  Evel Knievel's jump across the Snake River Canyon of course!  Besides the numerous motorcycle jumps that Mr. Knievel was famous for, he also jumped the Snake River in Twin Falls, Idaho in the Skycycle X-2.  The X-2 was pretty much a big rocket that had no possible chance of landing safely without a parachute.  See for yourself on Youtube.
If you'd like to relive that moment every day of your life, go find yourself the Evel Knievel Battery Powered Toothbrush.  While brushing you can think about one crazy dude that broke 37 bones in his lifetime (a world record) and survived to tell about every one of his major, and we mean MAJOR, wipeouts.  These toothbrushes are in short supply nowadays, so if you can't find one to buy for yourself, you can find one on display at the National Museum of Dentistry in Baltimore.  In fact, the kind folks at the museum gave us permission to use the above photo!  Here's a great description of the museum's latest goings-on:
See amazing teeth feats, marvel at George Washington's choppers, sing along to vintage toothpaste commercials, and discover fascinating hands-on exhibits about the power of a healthy smile. An Affiliate of the Smithsonian Institution, this one-of-a-kind museum celebrates the history of dentistry and educates the public about the importance of good oral health to a healthy life. Visit www.smile-experience.org to find out more!
Now through April 30, discover childhood toys with a toothy twist in' Open Wide! Toothy Toys that Made Us Smile.' This nostalgic and fun exhibit features more than 50 objects, ranging from a build-it-yourself rocket toothbrush from the 1960s to a playable Tooth Invaders video game from 1981. See games, baby dolls, puzzles and an array of character toothbrushes (from Bugs Bunny to Chuck Norris) that will take you back to the days you were missing your two front teeth.
If you're ever in Baltimore we highly recommend a visit to the museum!
Click here to see where this was found.